Hundred-Year-Old Café Culture Treasure Surfaces in Canada: Its 2017 Return to Switzerland
An unassuming well-worn leather guest book, gilded with Gäste-Buch on the front cover, measuring a mere 17.5cm x 13.5cm x 1cm, landed on my desk for a market value appraisal. Containing musical scores, signatures, drawings, sketches, paintings and poems by well-known Swiss figures and international greats, this book creates a dynamic picture of Zürich's art scene between World Wars. 
The Tages Anzeiger, a Zürich daily, described the Café Odeon guest book (1917-1932), a stunning record of the period's art scene, as a unique document of the Zürich kaffeehauskultur that no one knew existed. The Café Odeon served as the birthplace of the Dada movement in 1918 where Tristan Tzara's Dada Manifesto was discussed, as in other iconic cafés throughout Europe.  The Café de la Paix and Café Les Deux Magots in Paris, Café Central in Vienna, Antico Caffé Greco in Rome, Caffé Florian in Venice's Piazza San Marco, and the Café Einstein Stammhaus and Café des Westens in Berlin, are turn-of-the-century cafés that boasted intellectuals, students, artists and politicians as patrons since the early 20th century.  The art deco Café Odeon (http://www.odeon.ch/en/geschichte.php), opened in 1911 with its own pastry shop, billiard lounge and tables for playing cards and chess, was a favorite of writers, painters, musicians, composers, politicians and scientists such as Albert Einstein, James Joyce and Vladimir Lenin. In addition to these luminaries, the Café welcomed countless other creative and political giants as established by the recently surfaced Café Odeon Guest Book. The Café Odeon was the first to introduce serving Champagne by the glass, known as Cüpli, as Hans-Peter Keller of Christie's reminisced in his article, "My Favourite Guestbook", in advance of Christie's Swiss Art Auction on October 17, 2017.
A solid and unbroken chain of provenance, or history of ownership, is essential in establishing the legitimacy of an historic object and the guest book proved a superb example. The existence of the "autograph hunter's dream" was long forgotten, known only to a Canadian descendant of the original owners, Werner and Helen Otto-May.  The guest book was handed down from Helen Otto-May (1894-1983) to her son, Peter Paul May (1921-2007) who passed it on to his daughter in Canada.  She safeguarded the guest book as a treasure for three decades, until now, contemplating how to handle its future as she approached downsizing.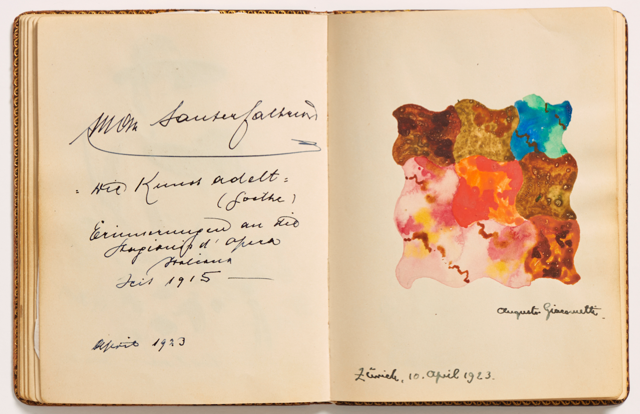 The most internationally known signature and sketch is by Augusto Giacometti (1877-1947), one of the first artists to introduce the abstractionist style. He maintained a studio above the Café Odeon as early as 1915. Otto Pilny (1866-1936), Orientalist painter, entered an elaborate shaded drawing from his painting "Sklavenmarkt" (Slave Market), inviting conjecture that he might have taken the guest book home to complete it; Emil Huber (1883-1943), well known military painter, inked a caricature of an officer and a soldier; Leo Fall (1873-1925), a star composer from Vienna, inscribed the introductory bars of his Operetta, "Die Rose von Stambul" (The Rose of Stambul); General Ulrich Wille (1848-1925), the controversial head of the Swiss armed forces in WWI, signed during a pause in his Tuesday afternoon card games; Leo Leuppi (1893-1972), Swiss artist and founder of the avant-garde artists association, signed a self-portrait sketch, a rare figurative work; Albert Steinruck (1872-1029), German silent film actor, made his mark; Ermanno Wolf Ferrari (1876-1948), Italian composer and teacher signed; Frank Guarente, trumpeter and Director of the New York jazz and dance band, "The Georgians, wrote an affectionate dedication to the Café owners. With 140 entries, many still remain to be deciphered. The signatories were all participating witnesses to the history of a tumultuous socio-cultural and political scene, while adding their own marks, and impressing a patina of scratches and handprints on the soft brown leather cover.
Guest books rarely appear on the market and there is very little evidence to assist an appraiser in establishing market value. As a Swiss myself, familiar with the Café Odeon introduced to me in the 1970s by my Uncle Bruno, I felt that the guest book belonged in Zürich.  I approached Hans-Peter Keller, Director of the Swiss Art Department at Christie's Zürich Office, to explore a possible sale. After months of research and consultations, it appeared as Lot 19 in the Swiss Art Sale of October 17, 2017, with a presale estimate of 20,000-30,000 CHF (http://www.christies.com/swiss-art-27065.aspx?saletitle).  Curiosity, interest and excitement about the historic guest book was building in anticipation of the sale. Keller, in a brilliant stroke of marketing, introduced the guest book to the press at the Café Odeon on October 11, 2017. On the day of the sale it was a matter of two dramatic minutes before the guest book was sold after fast-paced volleying between buyers in the room.  The auctioneer lowered his hammer and called the sale at 42,000 CHF ($54,000 CAD). The Swiss National TV included the sale results in the October 17th newscast and Telezüri, a local TV channel, reported on the guest book sale the next day.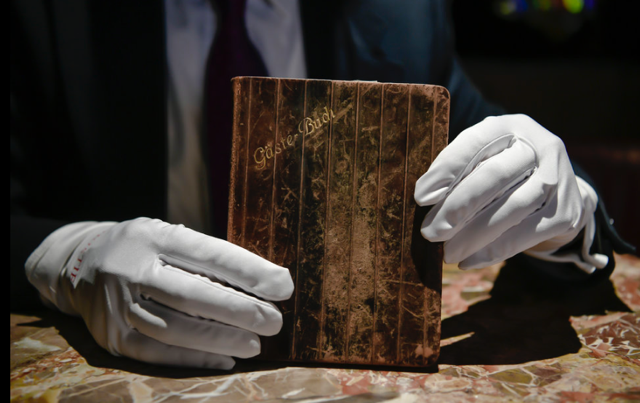 Hans-Peter Keller said of the experience: "… the guestbook can be compared to a treasure box, filled with drawings, signatures and dedications of famous people. A bit of detective work gave me further insight into the expanding European cultural and intellectual hub Zürich became during the 1920s-1930s. This guestbook is part of the city's history and it found its way now into a very nice private Swiss collection" (October 26, 2017, personal communication). For more on the Café Odeon, consult http://www.odeon.ch/en/galerie.php for a 100th Anniversary video. "Café Odeon", a book by Curt Riess and Esther Scheidegger is available through the Café Odeon website.
To learn more, please visit Christie's
here
 or
this
Tages Anzeiger article.
---
---